For leaders today matters! This training provides steps to help leaders make the most of every day. This training will challenge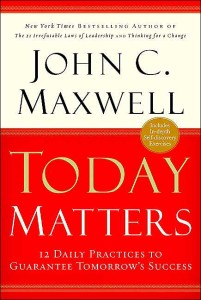 participants to make today the most important day leaders have. When leaders make today the best it can be they can build for a better tomorrow. This is not a time management training session; it is a leadership and life management transformation.
Participants will learn how to assess their current progress, prioritize their agenda and stretch their creativity and innovation.
Making Today Matter:
Today Often Falls to Pieces – What Is the Missing Piece?
Today Can Become a Masterpiece
Today Matters and Leaders Need:

o   Possibilities
o   Focus
o   Strength
o   Stability
o   Advantage
o   Tenacity
o   Options
o   Peace
o   Fulfillment
o   Significance
o   Direction
o   Potential
Host this seminar for your company and customers
The one day seminar includes:
* Participant Guide
* Today Matters by John C Maxwell (Hardback Edition)
* Be Bodacious: Put Life in Your Leadership by Steven D Wood (Signed Copy)
* Today Matters portfolio case
* Full day facilitation by Steven D Wood